I always recommend a green smoothie, green juice, or some energizing herbal teas for a jumpstart in the morning. Exercising also helps.
However, seen as how I've only had coffee once in my life, I turned to my colleagues to see how they've personally overcome this issue. Utilize the strategies that resonate with you and feel free to try numerous strategies. There's a possibility one may work for a time and then not be as powerful later on. Keep resisting the urge to give in to bad habits and food addictions by just trying another strategy from the recommendations below.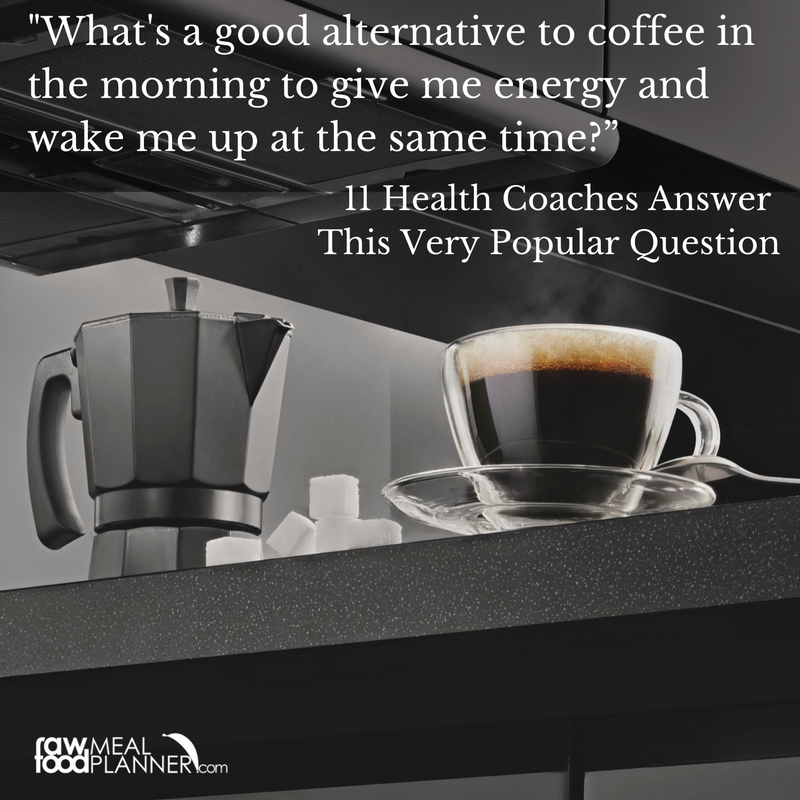 Christie Zepeda: Drink warm water with lemon first thing in the morning followed by another glass of warm water and ween off larger amounts of caffeine. Investigate lifestyle factors that may be draining you and making you turn to caffeine for energy. I used to be a coffee drinker. I switched to green tea, then to decaf green tea and now hot water with lemon and Egyptian licorice tea (herbal) when I'm looking for a "kick" in the morning.
Lorraine Wallace: I've never been a big coffee drinker but when I was ill with the flu earlier this year I had a craving for coffee. When I was better I wanted to kick the coffee habit so I started drinking 100% chicory. It comes just like instant coffee and can be made with just water, just milk or a mix of both (I like it 3/4 water, 1/4 almond milk). You can also buy it as a chicory/coffee blend to ease off of coffee more gently. I've had a few clients get hooked on it now instead of coffee :D.
Kirsten Valentine: I used to be a hectic coffee drinker and switched to decaf. It made a huge difference to my sleep. When I'm in my routine, I now drink hot water with lemon. To make it more fun, I juice a few lemons at a time and freeze them in heart-shaped ice cubes and then keep them in a zip lock in the freezer. Quick, easy, visually appealing which makes it more doable. It is hard to come off coffee so I would definitely say do the decaf first, then reduce the amount of decaf being consumed and then transition to lemon water first thing followed by breakfast.
Allissa Ackerman Robinson: If you want to give up coffee but long for the delicious bold taste of coffee, definitely try the the chicory suggestion. This product is also delicious and comes in various flavors (it's like an herbal coffee…most have chicory). Just don't expect it to taste like coffee. I have given up coffee in the past…and liked the bold taste of teeccino even if it wasn't coffee. That said I've returned to my morning coffee. Ask yourself why you want to give up or stick with coffee. I have stopped coffee to see how my body feels without it and then added it back. Some see it as a vice, which it can be, others say it has healthful properties. Make a decision for yourself mindfully. And be mindful about what's added to it (sweetener and such). Are you drinking too much caffeine? If it's once a day and it's not causing problems maybe you need not eliminate it.
Michelle Lebling Camp: I had to get off decaf coffee due to the acidity. I love the YOGI herbal teas!! There are so many delicious varieties that I look forward to two or 3 times a day. Getting off caffeine will take a couple weeks of discomfort. I'd suggest exercise first thing in the morning to change up your typical routine.
Marcie Croan Desmond: I used to drink a ton of coffee. I switched first to black tea with milk. Then moved to green tea. Now I drink green teas, white teas and herbal teas. Don't miss coffee AT ALL.
Monica Crumley: I had a client a few years ago that was on 9 cups of coffee a day. For my program, it was not about the caffeine, rather that coffee is acidic. She cut out 2 cups a day over the course of five days, replacing it with green tea, which has a small amount of caffeine. She also supplemented with a green tea healthy energy drink that had guarana, chromium, rhodiola and ginseng. She felt so great off of coffee and really enjoyed slowing down with the tea brewing.
Davina Harilela: Another idea (as a coffee addict), switch to matcha green tea, the caffeine affect is sustained and give you a relaxed calm effect. Green tea is also an alternative, or dandy blend, etc. Cut down first, switch, then crowd out.
Stacey Lehn: I was using coffee as medication pre & post brain surgery. After applying my own fresh start cleanse I'm off it!! It's been a couple months and I'm managing my headaches without coffee!! Yay!!
Valda Casey: You may have a craving for caffeine due to a deficiency in certain minerals, like calcium and the B vitamins, primarily B1. Try supplementing your diet by adding calcium and B-vitamin-rich foods. A calcium supplement is ok also. Just be sure to avoid calcium carbonate since it's not absorbed by the body due to it being from rocks. The B vitamins can be obtained from nutritional yeast which is a natural source.