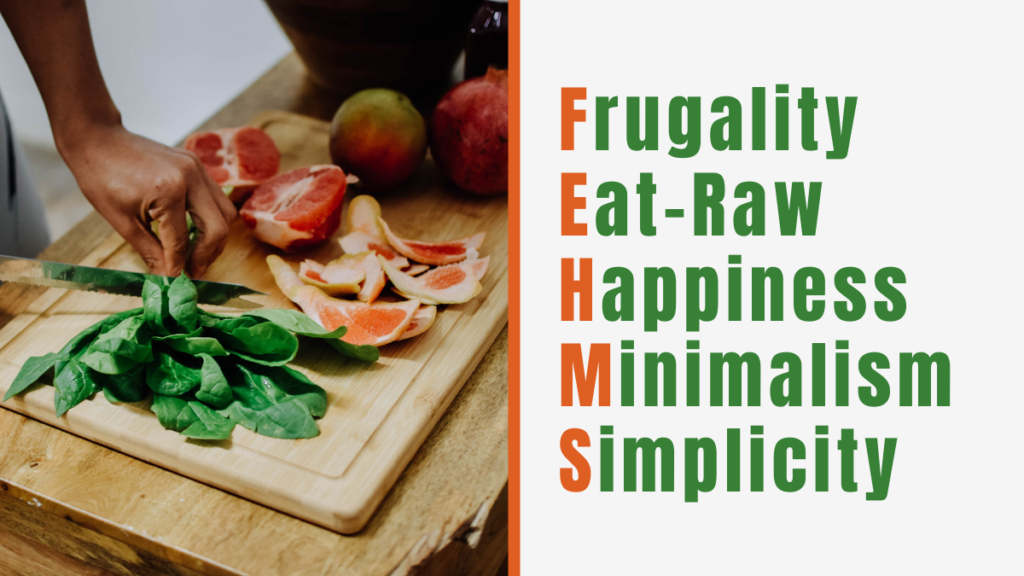 If you follow health trends, you may have noticed that skinimalism is a new trend that has emerged. I find it funny since it is something I've been talking about forever although I did not coin the term. The trend is all about less is more when it comes to skin care products – buying less, wearing less and using less. The trend is all about loving yourself as you are and using only the necessary products to enhance what God blessed you with instead of hiding behind the mask of makeup. This is essentially my argument on this episode of the Raw Food Health Empowerment Podcast that I did in 2018 but if you ask my mom, I've been on this rant for decades. My mom was a cosmetologist and definitely into makeup so much so I remember makeup being plastered on my face for dance recitals, prom, and high school photos. I hated it mostly because I did not recognize myself with all that on. 
Now, as an adult, I am even more concerned in regards to makeup because of all the endocrine disrupting chemicals in it. Makeup is not the only item with endocrine disruptors. There are also other skin care products to watch out for. 
We've all noticed with the pandemic that ads on social media have increased tremendously. For some reason, advertisers thought I would be interested in nail polish. I'm not sure who I follow gave them that impression but I was intrigued when I saw Nailboo and Manime show up on my feed. I was impressed by the innovation in nail care but concerned about the toxic chemicals they may contain.
I was right to be concerned. 
Is Nailboo bad for nails?
Nails are the least of your worries since it seems really dangerous for the rest of your body. Here's why…
The activator coat contains ethyl acetate 85~95% CAS 141-78-0, which is a highly flammable liquid and vapor that causes serious eye irritation, may cause drowsiness or dizziness. Source: PubChem NCBI
It also has N,N-dimethyl-p-toluidine 5~15% CAS 99-97-8, which has a list of concerns:
Source: PubChem NCBI

H301 (99.82%): Toxic if swallowed [Danger Acute toxicity, oral]

H311 (99.82%): Toxic in contact with skin [Danger Acute toxicity, dermal]

H331 (97.49%): Toxic if inhaled [Danger Acute toxicity, inhalation]

H373 (100%): Causes damage to organs through prolonged or repeated exposure [Warning Specific target organ toxicity, repeated exposure]

H410 (12.75%): Very toxic to aquatic life with long lasting effects [Warning Hazardous to the aquatic environment, long-term hazard]

H412 (87.25%): Harmful to aquatic life with long lasting effects [Hazardous to the aquatic environment, long-term hazard]
In the base coat is polymethyl methacrylate 8~20% CAS 9011-14-7, which may cause respiratory irritation with a warning for specific target organ toxicity with single exposure and respiratory tract irritation, which right now with an airborne virus on the loose does not seem wise. (Source: PubChem NCBI)
If you wanted to go with a safer choice, ManiMe seems pretty safe. They are Leaping Bunny Certified. They are labeled 10-Free (non toxic), which is a classification for nail products that do not contain the following 10 harmful chemicals: Formaldehyde, DBP (Dibutyl phthalate), Toluene, Camphor, Formaldehyde Resin, Xylene, Fragrances, Parabens, Ethyl Tosylamide, and Phthalates. They don't contain latex and according to my research is right now considered safe for pregnant women. I say right now because things are always uncovered/discovered later on but this is what we know right now. 
I admit, I like to have fun with polish at times and it has become a self care practice to take time out to do my nails and wait for it to dry as I am practicing doing less. It's important for me in my self care practice to not use harmful toxic products.
If I lived in Sacramento, I would call up SoulTree Vegan Nails Mobile Boutique from our community. You can learn more about her services here.

Episode Resources:
🫐 Get affordable organic groceries and clean skincare products here and get $40 off your next order
🫐 Need support on your weight loss journey? Sign up for a free health consult here
💞 Join the Facebook Group for support on your wellness journey
🧘🏿‍ It's not just a school. It's a movement. Learn more about IIN.
📖 My book, You Can Afford to Be Healthy
Recommended Reading:
// HOST Samantha Salmon
Certified Integrative Nutrition Coach and Ambassador of Health and Happiness
// CO-HOST Dorrell Hylton Salmon
Mom, Wife, Hair Doctor, Beauty Parlor Counselor, and Prayer Warrior
The information provided in this broadcast is for educational purposes only and is not intended as medical advice. These statements have not been evaluated by the food and drug administration, or the equivalent in your country. Any products/services mentioned are not intended to diagnose, treat, cure, or prevent disease. 
RawFoodMealPlanner.com © 2022