Today, I want to explain the difference between raw and pasteurized juice. This will be helpful for you as you are on your journey to living a healthier lifestyle, keeping fat off, and allowing the body to heal and detox itself naturally.
The facts are that pasteurized juice has a ton of sugar and no nutrient value.
Let's take mango juice, for example, because I know a few of you are using it in your smoothies.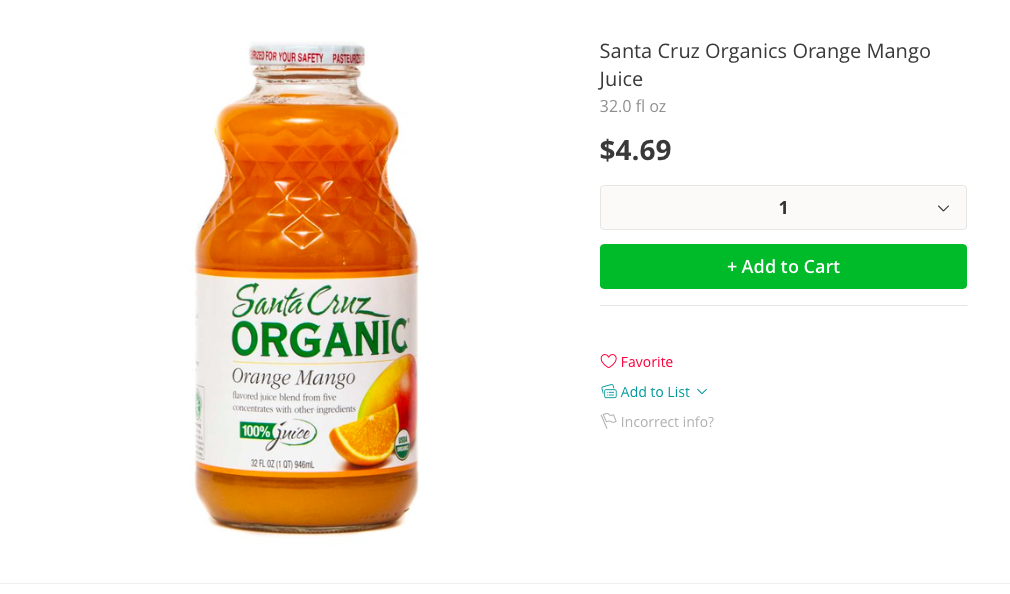 Even if you get this organic mango juice, look at the ingredients.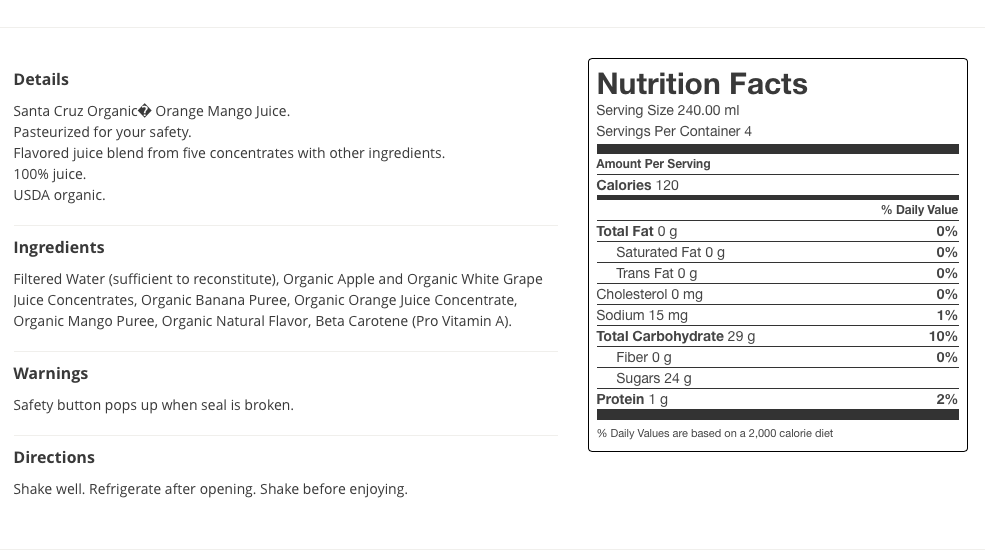 Notice all the juice concentrate ingredients.
"Juice is typically sold in concentrate form to increase its shelf life and to reduce its shipping weight when sent from fruit-producing regions and countries to your local supermarket. Some nutrients are lost in the process … juice drinks and juice cocktails from concentrate have refined sugars and flavors added and are not healthy for your body in large quantities."
Source: Livestrong.com
There are fewer nutrients due to the processing compared to raw juice, highly acidic because they have to add sugar to reconstitute the flavor of the fruit after processing, and you will have blood sugar issues with this form of "juice" because it is refined sugar. Real raw juice will not have those damaging effects on the body because they are full of phytonutrients, sugar that is bio-available and quickly metabolized, and void of any chemicals or artificial anything.
There are 24 grams of sugar in this organic mango juice. That's the same amount as a candy bar and they are basically the same because they are both refined sugar.
Download this helpful graphic and find out how much sugar you are consuming
Now, let's look at the puree ingredients. What exactly is the puree?
We know how to naturally puree foods at home but what are they doing in these packaged drinks?
"In some cases, the puree is pasteurized to reduce microbiological loading and increase shelf life."
Source: www.cobell.co.uk/index.php?page=56
Removing the water and bacteria from fruits and vegetables is a problem in that that bacteria is helpful for our intestines, immune system, mood, brain function, etc. And the water that is being pulled out of these fruits and veggies to have a long shelf life holds all the nutrients that raw foods have to offer. So it tastes ok but the nutrient value is not there so what really is the point of it?
Ok, now what the hay is Organic Natural Flavor?
When I see this on any packing, I put it down. If they can't tell me what it is, I don't want it in my body.
"The bottom line: natural and artificial flavors really aren't that different. And those "natural flavors" can actually contain synthetic chemicals! You're right to be skeptical of the word "natural" – it's often thrown around loosely. I avoid both "synthetic" and "natural" flavors when I can, by minimizing my consumption of processed foods.
The main difference between a natural and artificial flavor is the origin of the flavor chemicals. Natural flavors must be derived from plant or animal material.[1] Artificial flavors are synthesized in the lab. The actual chemicals in these two kinds of flavors may be exactly the same: the chemical structures of the individual molecules may be indistinguishable.
The Food and Drug Administration defines natural flavors as substances derived from animals or plants and artificial flavors are those that are not. An artificial flavor must be comprised of one of the nearly 700 FDA-allowed flavoring chemicals or food additives categorized as "generally recognized as safe," or any of 2000 other chemicals not directly regulated by FDA but sanctioned for use by an industry group, the Flavor and Extract Manufacturers Association of the United States. Most of these chemicals exist as natural flavors or can be extracted from them.
From a food manufacturer's perspective, the difference between a natural and artificial flavor often comes down to cost and consumer preference. A natural flavor almost always costs much more than an artificial flavor. Still, food makers are often willing to pay because they know that some consumers prefer "natural" flavors.
Interestingly, the chemical mixtures that comprise artificial flavors are often simpler than "natural" flavors. The reason: artificial flavors contain fewer chemicals than natural ones, which can be mixtures of several hundred chemicals."
Source: www.ewg.org/foodscores/content/natural-vs-artificial-flavors
Then, they went ahead and added Beta Carotene to do us a favor, right?
I am suspect of articial man-made vitamins because you can have too much when it becomes an extracted compound.
"In the body, beta-carotene converts into vitamin A (retinol). We need vitamin A for good vision and eye health, for a strong immune system, and for healthy skin and mucous membranes. Taking big doses of vitamin A can be toxic, but your body only converts as much vitamin A from beta-carotene as it needs. That means beta-carotene is considered a safe source of vitamin A. However, too much beta-carotene can be dangerous for people who smoke. (Getting high amounts of either vitamin A or beta-carotene from food, not from supplements, is safe.)
Beta-carotene is an antioxidant. It protects the body from damaging molecules called free radicals. Free radicals damage cells through a process known as oxidation. Over time, this damage can lead to a number of chronic illnesses. There is good evidence that eating more antioxidants from foods helps boost your immune system, protect against free radicals, and may lower your risk of heart disease and cancer. But the issue is a little more complicated when it comes to taking antioxidant supplements.
Studies that look at big groups of people suggest that those who eat 4 or more daily servings of fruits and vegetables rich in beta-carotene may reduce their risk of developing heart disease or cancer. Other preliminary studies suggest that eating foods rich in beta-carotene reduces the risk of Sporadic ALS (Lou Gehrig Disease). Foods rich in beta-carotene include those that are orange or yellow, such as peppers, squashes, and carrots.
However, a few studies have found that people who take beta-carotene supplements may have a higher risk for conditions such as cancer and heart disease. Researchers think that may be because the total of all the nutrients you eat in a healthy, balanced diet gives more protection than just beta-carotene supplements alone."
Source: www.umm.edu/health/medical/altmed/supplement/betacarotene
I could go through this same process with apple juice, cranberry juice, etc. The best thing to do when you're making smoothies and you need a base, use water or actually juice the fruit. Certain fruits are difficult to juice, like mangoes and cranberries. Mangoes are better to just have with the fiber in a smoothie and same for cranberries.
If you're unsure about a particular item, post it in the FB Group and I will do an audit for you on that item.