What is spirulina?
Spirulina is said to be the world's highest source of complete protein. It provides a vast array of minerals, trace elements, phytonutrients, and enzymes. Spirulina is said to increase fat burning during exercise and studies have found that it increases endurance and decreases muscle damage from exercise
How to use it?
I love to use it in smoothies. Check out my recipes below:
Spirulina Smoothie
2 cups of frozen blueberries
6 ripe banans
1 tsp pure Hawaiin spirulina
1/2 tsp vanilla
2 cups water
Spirulina Lemonade Smoothie
1 cup water
1 lemon, juiced
1 tsp spirulina
2 bananas
Spirulina Milk
1 tsp spirulina
1 cup almond milk
3 bananas
You can even make a smoothie bowl using any of the recipes above and topping it with pomegranate seeds and/or blueberries. You can top it with anything you like actually. Try some different varieties you think you will enjoy.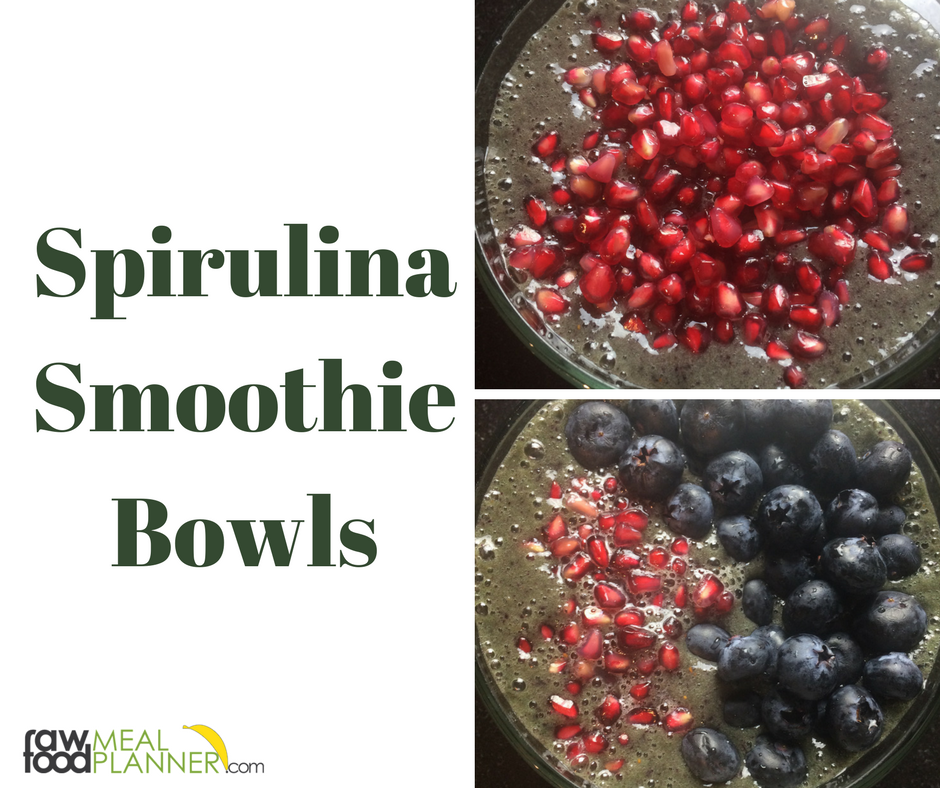 You can even make a spirulina pesto.
What is kelp?
Kelp and other sea vegetables, like nori and dulse, help remove heavy metals, detoxify the body of radioactive iodine, provide numerous trace minerals, and regulate immunity.  Sea vegetables benefit the entire body and are especially excellent for the thyroid, immune system, adrenals, and hormone function.
How to use it?
I like to use kelp in a salad. We've had this salad on the meal plans a few times:
Kelp Salad
Ingredients:
Romaine hearts, 3 bunches
Avocados, 3 peeled and cubed
Kelp, 1/2 cup chopped
Red Clover Sprouts, 4 oz
1 to 2 Tbsps Hemp Oil
a pinchHimalayan/Sea Salt
a dash of Cayenne Pepper
a dash of Turmeric powder
Soak the kelp in water first to reconstitute it then let it air dry. Mix the romaine leaves, avocados, kelp, and sprouts in a large bowl. Drizzle with a Tbsp or 2 of hemp oil and add a dash of Himalayan sea salt, cayenne, and turmeric.
You can add kelp powder to your green smoothies.
You can make a kelp noodle dish using these kelp noodles.
You can also use it in soup. In this recipe, I would replace the soy milk listed with almond milk.
You can add kelp to your quinoa dishes like this guy did with rice.
Where to buy?
Make sure to buy organic if you can. It's just like a leafy green, where the thin skin absorbs all of the chemicals and heavy metals it comes into contact with. You can get this at any health food store in the Asian Foods aisle and online at stores like VitaCost or iHerb.com.
Which is better?
It depends on your goals. Spirulina is something I don't mind consuming everyday but kelp is not something I would consume everyday. This is a once a week treat for flavor unless you're using kelp seasoning then feel free to use that daily. The flavor of kelp is pretty strong and fishy tasting so if you like that flavor, then this is for you. Also, you can overdose with iodine, which is in kelp, however I noticed that my body naturally tells me when to stop eating kelp. It's not possible I feel to overdose on iodine from kelp if you're listening to the queues your body is giving you.