Making a great salad is more than the dressing. While I will show you some great dressings using tahini, I will also show you how to make a salad so good and satisfying, it's your main meal (and not a side dish) you crave. The easiest way to lose weight and overcome arthritis and diabetic symptoms is with a whole foods vegan, anti-inflammatory diet full of meals that taste delicious.
Salad Blend 1:
Kale (chop and massage with a little oil and salt for easier digestibility)

Romaine 

Cashews (topping)
Salad Blend 2:
Mixed greens

Kale

Chickpeas

1 red bell pepper thinly sliced
Salad Blend 3:
Mixed greens

Kale

Lentils

Cilantro 
Other items to add to your salad to make it more of a meal:
Seasoned broccoli

Avocado

Sweet potato

Hemp seeds

Quinoa 
All of the dressings below are tahini based. Tahini is sesame seed butter. It's rich in protein, is a great source of B vitamins to help boost energy and brain function, vitamin E (which helps the body protect against heart disease and stroke), and minerals, such as magnesium, iron and calcium. Both magnesium and calcium help to regulate blood pressure.
These dressings can be made in a blender and feel free to add a little water to thin it out to the consistency you're looking for.
Dressing 1:
2 zucchinis

1 Tbsp tahini

Juice of 1 lemon

1 bunch of cilantro

Sea salt to taste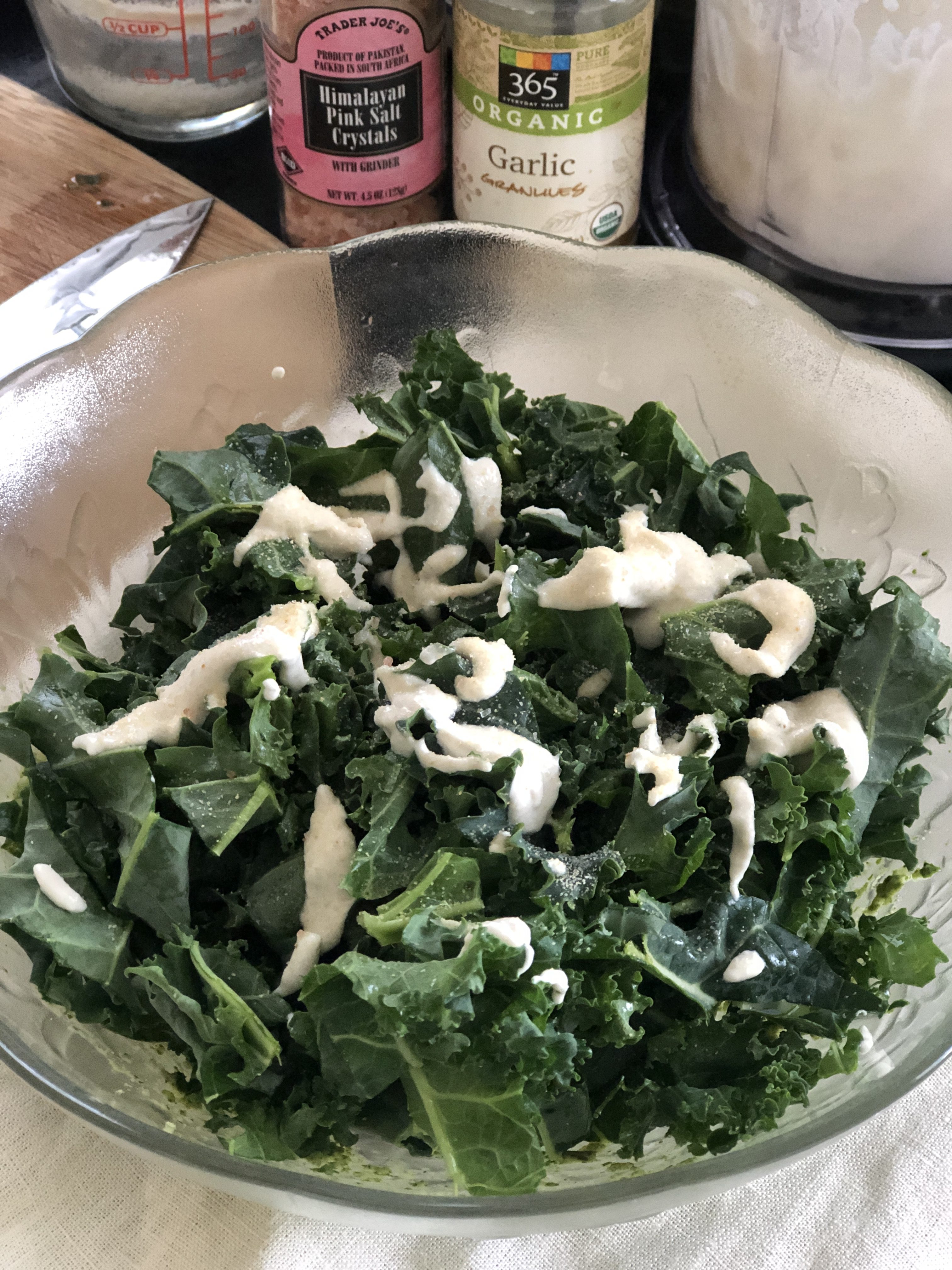 Bomb Dressing 2:
½ cup tahini

Garlic powder to taste

¼ cup of warm water

Sea salt to taste

Curry powder to taste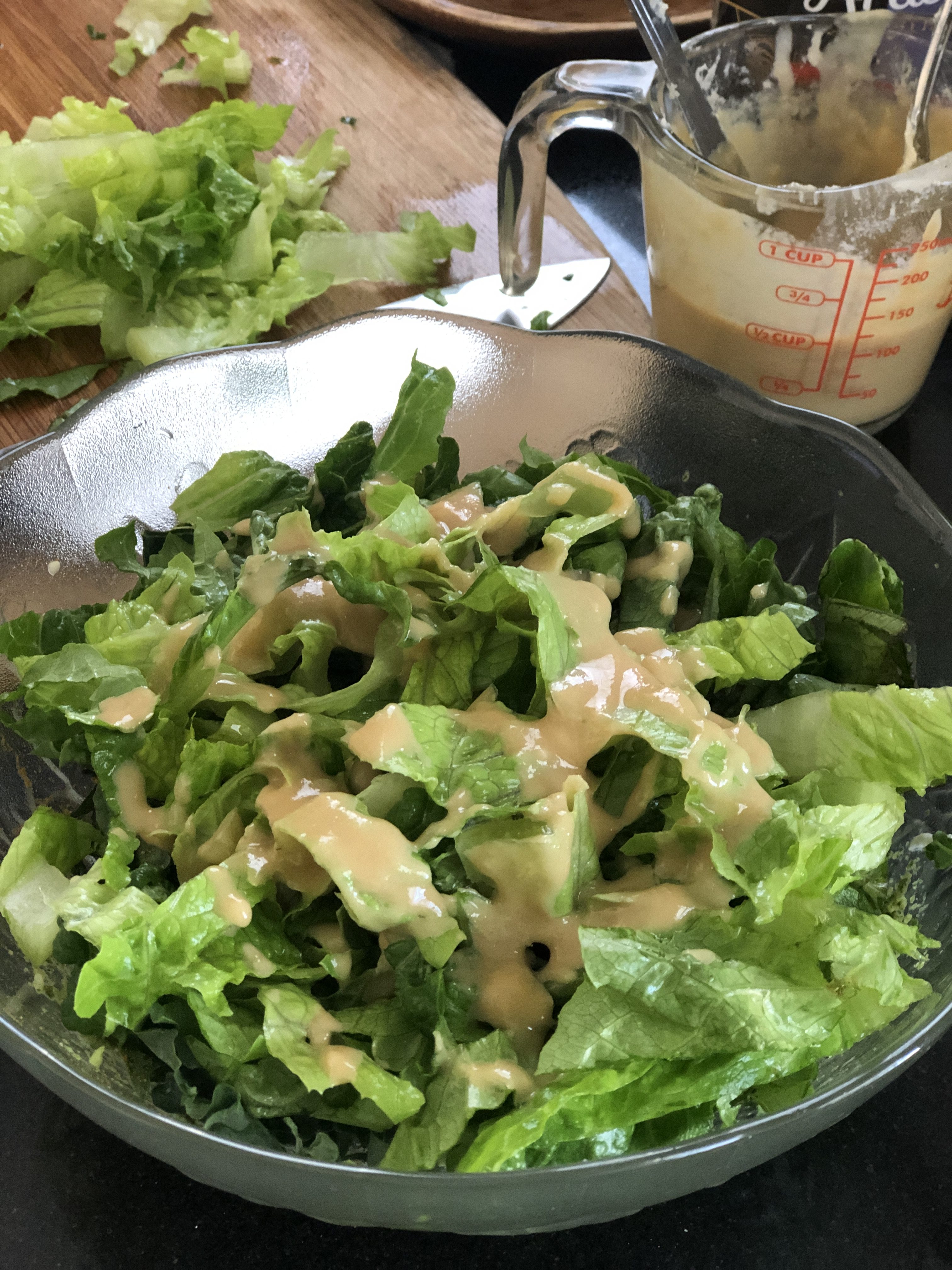 The Best Sweet & Tangy Dressing 3:
⅓ cup tahini

Juice of 1 lime

1 Tbsp coconut nectar

Garlic powder to taste

Water to thin
Dressing 4:
⅓ cup tahini

Ginger powder to taste

Garlic powder to taste

1 Tbsp coconut aminos

2 Tbsps coconut nectar

2 to 3 tbsps water
Dressing 5:
¼ cup tahini

Juice of 1 lemon

1.5 tsp apple cider vinegar

Garlic powder to taste

Coconut aminos to taste

Water to thin
Bonus Dressing #6:
2 tbsps tahini

1 lime juiced

1 tbsp coconut nectar

Black pepper to taste

Water to thin
Listen to the Full Episode:
Episode Resources:
🧘🏿‍ Schedule a free consultation
🥑 Raw Vegan Challenge
💞 Join the Facebook Group for support on your wellness journey
🧘🏿‍ It's not just a school. It's a movement. Learn more about IIN.
📖 My book, You Can Afford to Be Healthy
📧 E-mail me to submit a question and get featured on the Raw Food Health Empowerment Podcast
Book Recommendation:
// HOST Samantha Salmon
Certified Integrative Nutrition Coach and Ambassador of Health and Happiness
// CO-HOST Dorrell Hylton Salmon
Mom, Wife, Hair Doctor, Beauty Parlor Counselor, and Prayer Warrior
The information provided in this broadcast is for educational purposes only and is not intended as medical advice. These statements have not been evaluated by the food and drug administration, or the equivalent in your country. Any products/services mentioned are not intended to diagnose, treat, cure, or prevent disease. 
RawFoodMealPlanner.com © 2020