Some recipes can be overwhelming to some people sometimes if you're not used to cooking. A recipe like the African Peanut Potato Stew, for example, can be a little overwhelming and you may get discouraged. Don't get discouraged. I used to be intimidated by recipes like that. As a child I baked a lot and when I was baking as a child I always followed the recipes exactly and my brownies or cakes always came out as they should because I followed the recipes directly.
I'm just that type of person but then as I grew older, I've come to realize that in order to have balance in life we need to cook our food or prepare our food. Most of Americans today buy food out from restaurants and they don't prepare food at home at all. Some kids are growing up in a home environment where they don't see their parents prepare food and I was never raised this way. I was always raised to eat a home-cooked meal daily.
So, I realize that in order to eat the foods I want to eat, enjoy it, have it be healthy and have the ingredients be to the standard that I want and expect for my body, I need to get over this intimidation and overwhelm with the recipes that pique my interest.
What I came up with is doing shortcuts. So, for example I see a recipe, I see a picture and the picture really is what attracts me to make the recipe so I see the end goal in the picture. I come up with a way to make shortcuts that may not be in the recipe.
First, I read the recipe and see if it is simple and quick for me. If not, like in the case of the African Peanut Potato Stew, there're a lot of steps and I'm making stuff from scratch because it's healthier. I'm not buying canned beans because eating from cans brings into the body inorganic aluminum, which causes nerve damage so I'm making everything from scratch.
What I decided to do is make things separately and make things as easy and quickly as possible. All the ingredients I knew was basically making the sauce, I put them in my Vita-Mix Blender and made the sauce. So the tomatoes, all the seasoning, the vegetable broth, and the almond butter (I used almond butter instead of peanut butter because peanut butter does not digest well. If you don't have a problem with peanut butter go ahead and use peanut butter but I feel almond butter is just higher-quality.) all went in the blender to make the sauce.
I washed and soaked my chickpeas in alkaline water overnight so it was ready for cooking. I used the sauce that I made in the blender to cook the chickpeas so all of those flavors can be absorbed. That's the great thing about chickpeas and broccoli, they absorb the flavor they're cooking in so instead of just cooking the chickpeas in water, I cooked it in the sauce.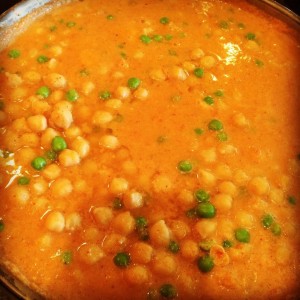 I boiled the chickpeas in the sauce that I made in the blender and it came out great. After the chickpeas were done, I added the green peas because those are already frozen peas, they don't need to be in the heat for too long. They just need to basically defrost and warm up. The sweet potatoes I cooked separately so when I plated the food, I plated the sauce the chickpeas and green peas which are altogether on top of chunks of sweet potato or you can even put that on the side.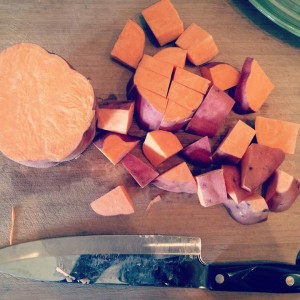 This process was quick, easy and very organized for me because I did it in a way that I could manage and at the end of the day I had a great dish that the whole family could enjoy and I enjoyed.
Now, will it be the exact taste and flavor as the recipe? I'm not quite sure but it was still good and that's the goal.
When you make food, take all the pressure and anxiety out of your cooking so that you can make it a part of your regular lifestyle!