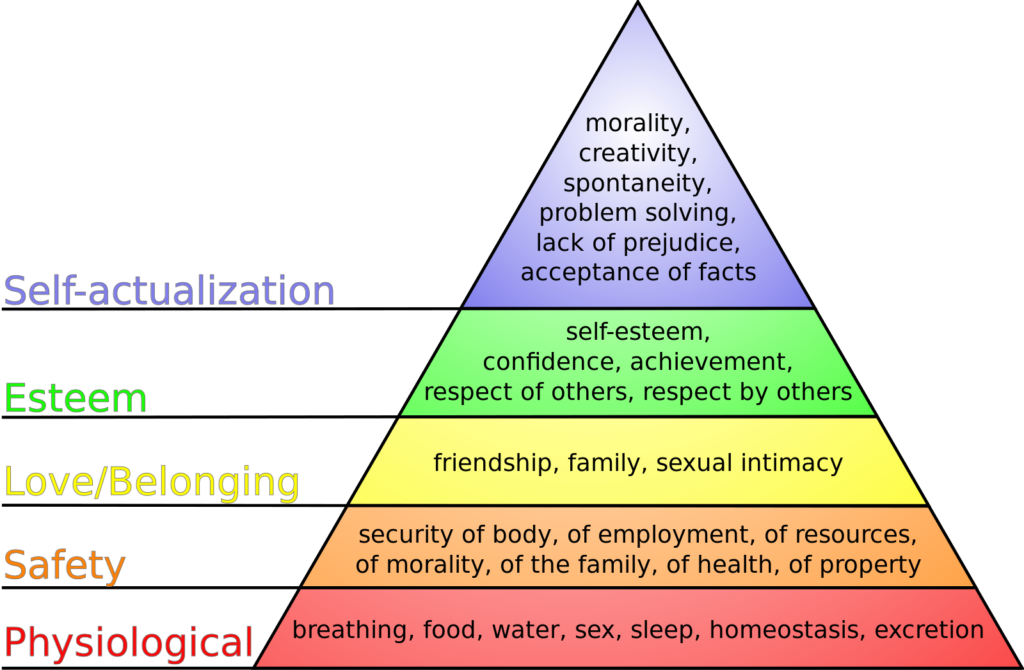 Above is Maslow's Hierarchy of Needs which is a theory of motivation in psychology. Maslow theorized that folks need physiological needs met first before being concerned about safety needs. He also felt that the bottom level needs (the bottom 3 levels) decrease as needs are met and the top 2 levels are growth needs for which motivation increases as needs are met.
Raw vegan recipe creator, Amanda Nicole Smith has her own version of this pyramid depicted here (scroll down to the LEARN section to see it). On this episode of the Raw Food Health Empowerment Show, she explains how her personal journey led her to remix Maslow's pyramid the way she did. My mom mentioned how her version would basically be Amanda's pyramid upside down.
The Institute of Integrative Nutrition​ forgoes the pyramid and instead utilizes a circle called the Circle of Life. You can explore the interactive tool for yourself here.
All of these tools really are for us (humans) to explore what we need to experience a fulfilled life and be more of ourselves, aka self-actualized.
Listen to the Full Episode:
Episode Resources:
🧘🏿‍ Schedule a free consultation
🍊 Boost your immune system with this free course
🥑 30 Day Raw Vegan Challenge
🍊 Amanda's free recipes
🍊 Amanda on IG  and on FB
💞 Join the Facebook Group for support on your wellness journey
🧘🏿‍ It's not just a school. It's a movement. Learn more about IIN.
📖 My book, You Can Afford to Be Healthy
📧 E-mail me to submit a question and get featured on the Raw Food Health Empowerment Podcast
Book Recommendation:
// HOST Samantha Salmon
Certified Integrative Nutrition Coach and Ambassador of Health and Happiness
// CO-HOST Dorrell Hylton Salmon
Mom, Wife, Hair Doctor, Beauty Parlor Counselor, and Prayer Warrior
The information provided in this broadcast is for educational purposes only and is not intended as medical advice. These statements have not been evaluated by the food and drug administration, or the equivalent in your country. Any products/services mentioned are not intended to diagnose, treat, cure, or prevent disease. 
RawFoodMealPlanner.com © 2020