I promote a plant-based diet free of meat and dairy primarily because I feel that's the healthiest and most sustainable diet for people. This diet can make a huge impact on your health if you're overweight or have a gastro-intestinal issue. Meat and dairy are full of saturated fat and disrupt hormones in the body. They are a major cause of heart disease and diabetes, and they irritate the intestinal lining, which can lead to leaky gut, gastrointestinal diseases, and a weakened immune system.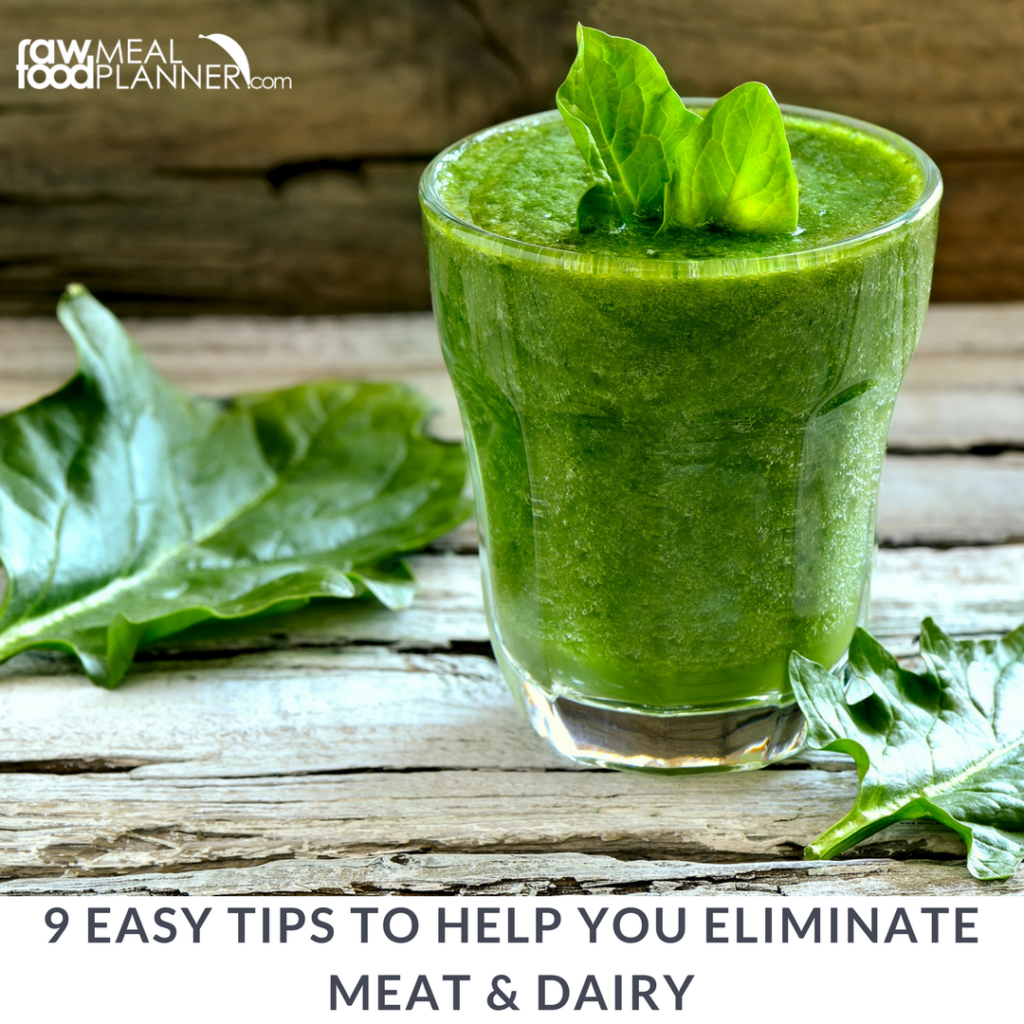 Beyond health though, this way of eating is more affordable, better for the environment, and better for our own karmic energy since we're not participating in the torture of animals. There are so many reasons to go vegan so I'm not surprised that there are more and more people who are giving it a try.
If you're trying to go vegan and you're having some difficulty with consistency, here are some strategies to consider:
1. Don't buy meat and dairy. If you don't buy it, it won't be in the house to consume.
2. If you have to have a dish that is usually made with dairy, get a vegan alternative. There are nut milks, vegan cheeses, vegan sour creams, vegan ice cream, vegan butters, etc. on the market these days. If you can't find it in your local store, try a health food store or your closest Whole Foods. Eat those like special treats, not like a regular thing. This will keep food cost down and your overall diet as healthy as possible. Same goes for meat dishes. There are faux meats out there. They were never my favorite but many people do like them so you can experiment with them.
3. Focus on all the foods you can consume that are not meat and dairy. I made a shopping list just for you to get you started. You can use it to plan your meals.
4. Eat a lot of the vegan foods you like that are nutrient dense. When I went vegan in 2008, I loved fruit and I didn't like vegetables so I did green smoothies for breakfast religiously to just get in greens. I also ate a lot of almond butter and jelly sandwiches because I liked it. I had a lot of pasta because I didn't like vegetables and that was easy to make. Thank God for the green smoothies though because eating so much wheat had me gaining weight pretty fast. The green smoothies (and the regular exercising and dancing I did) prevented me from becoming overweight but I was pretty much 1 lb away from that number with all that wheat I was consuming in the beginning.
5. Season your food really well. I did a video on all the spices in my cabinet:
And, I did one on how I season quinoa. Having well-seasoned food will help you not miss meat at all
6. Eat out at ethnic restaurants: Indian, Thai, Ethiopian, etc. They all have vegetarian/vegan options that are well spiced because that's how people of color eat outside of America. We use a variety of spices and all of those spices have health benefits. Chipotle is a fast food place to eat that's easy for vegans in America. You can get the burrito bowl with brown rice, black beans, peppers, salsa, guacamole, and lettuce. It's delicious.
7. If going cold-turkey vegan is too much right now, try starting with just breakfast. Then when you're ready, venture into no meat/dairy until dinner. You decide what you can handle and when. Making gradual changes may be more sustainable for you and sustainability is what we're after for long term success and a healthy body and mind.
8. Snack clean. Here's a snack list that should help with your transition. Feel free to add to it some other foods you discover that are meat and dairy free.
9.
Connect with like-minded people to encourage your progress
. I'm on your side. Comment below and let me know where you feel stuck on your journey. There's a possibility it may not even be food related even though it's affecting your commitment to being meat and dairy-free.
Sign up for free weekly meal plans
to assist with your meal planning. You can also
schedule a free consultation with me
to see if my coaching program is right for you. My program can really set you up for success to reach all your goals, not just dietary. Follow me on all my social media accounts to immerse yourself with motivation to continue with your healthy eating efforts.
BONUS TIP: Get the support and resources you need to make the transition to plant-based eating fun and sustainable in the Veggie Transition Program.