All this computer work has my eyes strained. I got some eyebright herb from EHC and made tea in my infuser. I let the tea cool and used it as a base in my smoothies this week. Eyebright is great for inflammation of the eyes, tired eyes, eye strain, and eye irritation. It has also been used for respiratory conditions such as allergies, sinus infections, colds and bronchitis.
I also moved all the original RawFoodMealPlanner.com recipes to the Recipes section of the site. Click on the links of the meal plan to take you to the recipes. They will open in a new window.
For those new to RawFoodMealPlanner.com: A word about the Exercise Plan
I think working out is important and should be a part of any healthy lifestyle. Eating well and exercise go hand in hand. The blood needs to circulate and the heart needs to work. The lymph nodes need to drain so cardio is important. I know I have waves of doing really well with sticking to my exercise routine and then I fall off because life takes over. Work is getting crazy busy now for me but still that's no excuse. So as a reminder for myself, I will include a workout for the week that I will attempt to get in this week. This will be at the bottom of each meal plan.
Sunday                                                          
Breakfast: 32 oz freshly juiced apple juice
Lunch: Raspberry Comfort Smoothie
Dinner: Guacamole Wraps
Snack: Goldenberries Cacao Cake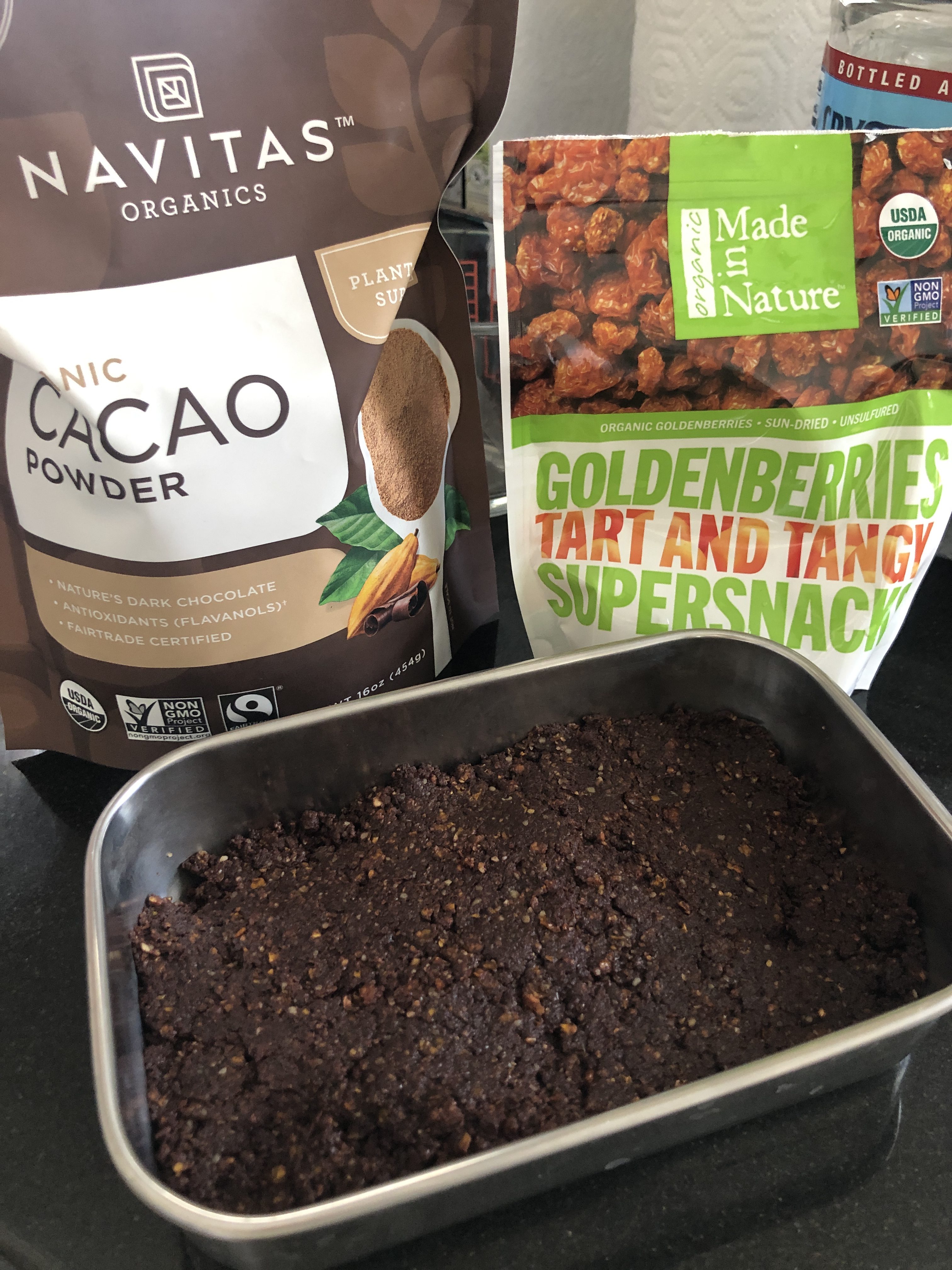 Ingredients
1 cup goldenberries
¾ cup raw walnuts
1⁄4 cup raw cacao powder
1 tablespoon coconut nectar (optional if you prefer sweet over tart)
Instructions
Combine the berries, walnuts, and cacao powder in the food processor. Process until the dough begins sticking together.
Press the dough into a small dessert pan
Place in the fridge to store. It will firm up. You can cut to your liking if you want to make cookies.
Will keep for many weeks in the refrigerator or freezer. Thaw for 5 minutes before eating.
Monday, Wednesday, and Friday                                                         
Breakfast: Raspberry Kiss
Lunch: Pineapple Banana Smoothie
Dinner: Guacamole Wraps
Snack: 5 apples
Tony Horton's advice to stay young:
The workout is 2 to 6 rounds of the following:
10 reps of push ups
1 minute of running or dancing in place
20 to 30 reps of crunches
20 to 30 reps of squats or lunges
Tuesday, Thursday, and Saturday                                                        
Breakfast: Citrus Raspberry Breakfast Smoothie
Lunch: Smoothie
Ingredients:
8 dates
2 bananas
6 oz raspberries
1 cup alkaline water
Dinner: Sun-Dried Tomato Dressing (1 cup) on a 1/2 a lb of mixed greens
Snack: 32 ounces Coconut water
Focusing on the butt and thighs this week: