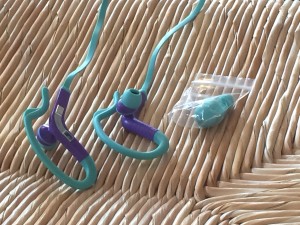 I been in the market for new headphones to use while working out because the Sony ones I have seem to be getting stretched out (if that is possible). They feel big all of a sudden and keep falling off during my circuit training. Also, the cushions on the ears don't seem hygienic. They get wet after a great cardio or circuit training session and itch my ears. So, I found these Aduro Sport EC10 Sweatproof Stereo Earbuds w/ Mic on Groupon for a great deal. It promised sweat resistance and that it was ideal for workouts so I decided to give it a try. I got two pairs in the deal. They come in a variety of colors: blue, pink, turquoise, light blue, green, or gray. I picked the turquoise color.
I love the color. It is so vibrant and the style and design of the earbuds are great. They fit my ears (which are relatively small since I am 5'3) and seem to fit any size ear. The ear buds go in comfortably and the pack comes with additional ear pieces so you can change them if they get dirty.
It has a mic with push-button for answering/ending calls, which is great for me since I use Pandora and Spotify on my iPhone during my workouts. I can pick up calls and talk. The sound is clear during calls and the microphone picks up the sound pretty well. I was told by those on the other line they were not hearing background noise so that is a plus.
They claim to have 10mm drivers that deliver powerful sound. I don't know what 10 mm drivers mean but I would not call the sound powerful at all. I feel like all the base is gone in the music with these and the music ends up sounding flat. My Sony ones had pretty decent sound for $30 headphones. With these, the price matches the sound. I paid about $12 and the sound is on that level. The sound is clear but for me, the beat in my music gives me the motivation to keep going through my workout sessions so to not have it has me bummed.
I am very pleased they are sweat resistant though. After my sessions, I just wipe them down.