622 total calories, Serves 2
Ingredients:
1/2 Teaspoon Minced Garlic
1 Lemon, juiced
1 Tablespoon Dijon Mustard
6 Tablespoons Nutritional Yeast
1/2 Teaspoon Smoked Paprika
1/4 Teaspoon Ground Turmeric
Sprinkle of Black Pepper
1/4 – 1/2 Cup Almond Milk, unsweetened
Organic Brown Rice Penne Pasta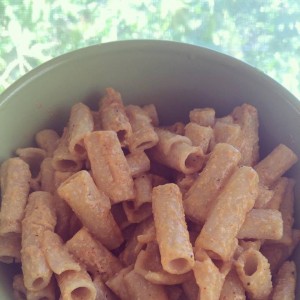 Directions:
Cook the pasta per the directions on the package.
Drain the pasta
Add to the hot pasta everything else listed in the ingredients and stir until it is creamy and all the powder disappears into a cream.
Add a little himalayan salt to taste if desired and enjoy!