Gum is not a food. It has no nutrient value. It's basically plastic and rubber mixed with a host of carcinogens.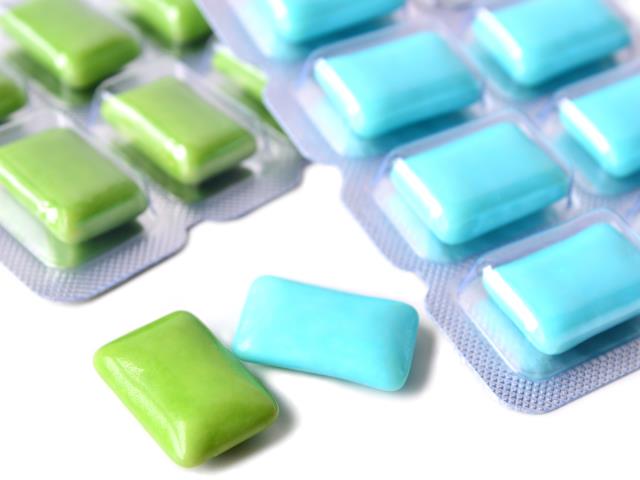 Carcinogen 1: Aspartame
Aspartame is a neurotoxin that severely disrupts hormone balance in the brain. It converts to formaldehyde in the body. Formaldehyde is acknowledged by the government to cause cancer. Aspartame is linked to diabetes, auto immune disorders, birth defects, cancer, brain tumors, and weight gain. Weight gain, I would say, is the least of your worries if you're consuming gum.
Carcinogen 2: Color Lake Dyes
These dyes are derived from petroleum. They are industrial agents used for textile dying. According to the New York Attorney General's office, "there is evidence that occupationally exposed people in the petroleum refining industry have an increased risk of skin cancer and leukemia".
Carcinogen 3: BHT
This is a chemical used as a preservative. It is found in embalming fluid. BHT rightly has been banned in several countries due to its link to cancer in animal studies. Studies also link this toxin to kidney and liver damage and hyper-activity in children.
The main thing to remember here is your immune system's first line of defense includes the mouth. When you bring in foreign matter into your mouth, your immune system then responds to it deciphering if it's friendly or harmful. The body is always working to preserve itself so if it sees it as harmful it will put its defense system into action and you will feel adverse effects. Even if there is a slight chance a "food" item may cause cancer is reason enough to stay away from it, especially in this case since gum is not an actual food.
But why do people chew gum?
I searched online for the answer to that question and boy did I get answers.
"Because it's flavorful and sweet, and it gives your jaw a good workout. A lot of times I'll keep chewing gum for hours after the taste goes away, just because my jaw likes the way it feels. Also, if the gum is minty, your breath will smell clean and your mouth will feel cool. What's not to like?"
Let's address these first. If you're looking for a sweet, chewy flavor why not just eat fruits with lots of fiber? Fruits like apples, bananas, oranges, raisins, grapes, figs, mangoes, etc. My favorite is raisins because to me they are most similar to that of gum. However, I must caution that the high concentration of sugar in raisins due to the fact that it has been dehydrated and is no longer balanced with water (grapes) may deteriorate your teeth if eaten in excess. When chewing sticky foods with sugar (even if natural sugar) and leaving those sugars to sit on your teeth for hours you run the risk of cavities.
If you like to give your jaw a workout, eat raw kale salads daily.
If you're looking for minty, clean, cool breath, chew on mint leaves. You can even make a raw vegan banana mint ice cream.
If you have an issue with bad breath that's a recurring one, there could be other issues going on. Schedule a consult with me so we can pinpoint what that could be.
"It has been proved medically that chewing gum can increase your attention span and helps you to be more focussed and attentive, quite opposite as perceived by elders/teachers/professors. Brain stimulation and heart beats show significant increment while chewing gums, this is also the reason behind a lot of sportsmen are often seen chewing gums."
For brain stimulation and increased concentration and focus, I would highly recommend Earth's Healing Cafe's Brain Power Tea. This tea includes the organic herbs: gotu kola, ginkgo biloba, and suma root. These herbs have traditionally been used to increase memory, focus and clarity by increasing the flow of oxygen to the brain.
There's always a healthier option. If you're having difficulty finding healthier alternatives to processed foods that you find comforting, schedule a free consult with me.